Semiconductor equipment
Helping you configure to order
Engineering-based Configurator Model Design, Architecture and Programming
Client Starting Conditions Objectives Results Success Factors
Client
Remove the row
Column: 1
This client manufactured laser beam lithography tools targeting the photomasks and reticles used in integrated circuit manufacturing.  Its clients included mask makers Dai Nippon Printing and DuPont Photomasks, and chip makers Hewlett-Packard, IBM, and Intel.
The product consisted of over 4000 components – costing up to $0.5M – and required some three months to assemble and test.
Column: 2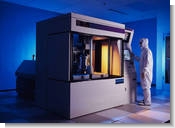 Starting conditions
This project was conducted in 1997 with Oracle version 10.6 – well before the current Oracle Configurator was introduced.  It simply illustrates how important the Bill of Material (BOM) and routing are to success with ERP.
Before this project, the client had:
Late parts and assemblies.
Assembly technicians acting as production planners.
Many manually expedited work orders.
Assembly process not fully documented.
Inconsistent production lead time.
Project objectives
The client wanted to:
Eliminate manual expediting of orders and materials.
Improve lead time consistency.
Increase inventory effectiveness.
Configure several expensive options.
Document the assembly process.
Eliminate damage to sensitive optical components held in WIP.
Project results
Steve Allen:
Added Option Classes to the BOM to allow configuration of options at order entry time.
Restructured the BOM and three major routings to match the manufacturing sequence and deliver the correct material to each assembly step.
Designed and managed the creation of ~60 assembly drawings to document major assembly steps.
Created over 300 routings for subassemblies and worked with other manufacturing engineers to manage the release of subassembly drawings.
The client achieved the following benefits:
Eliminated work and purchase order release timing issues and the need for manual expediting.
Significantly improved lead time consistency and build quality.
Improved overall inventory effectiveness.
Enabled configuration and proper planning of a $250,000 option containing approximately 75 components.
Eliminated damage to optical components being held in WIP due to being released and built before they were needed.
Aeolus Solutions Success Factors
This project achieved success using the following methods:
Partnered with Materials Planning to simulate all major BOM restructuring changes.  This avoided material shortages and achieved ownership in the Materials function.
Involved assemblers extensively, both for high-level routing design and BOM and drawing checking.  This achieved ownership on the manufacturing floor.
Obtained a dedicated drafting resource.
Please contact Aeolus Solutions today to see how we can help you simultaneously configure your products and manufacturing processes at order entry time!